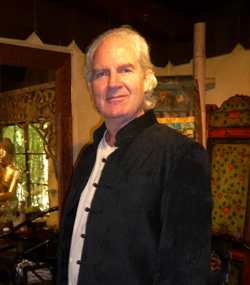 The principal of our design firm, John Anthony Lewis, born in Vancouver, British Columbia, Canada was raised on the East Coast and eventually moved to England, where he was schooled at Christchurch. The robust presence of nature balanced by centuries of human care affected him deeply, as did the magnificent cathedrals, cloisters and town squares.
   Ultimately his appreciation and awe of the physical environment mixed with a strong spiritual awareness led John Anthony to Architecture. A strong comprehension of the power and functions of varied volumes in buildings and a connection to the exterior landscape became an underlying theme in his design approach. This has only been strengthened with the many years now spent on the West Coast of Canada and the United States.
   The flow of the interior to the exterior, so very West Coast/ Pacific Rim in orientation, is now fundamental to all John Anthony Lewis designs, while still representing clients' differing tastes in Architectural style. Consciously keeping his practice at a manageable level has allowed John Anthony the personal attention and contact with each client to ensure a completely successful realization of his vision of the client's dreams. This is the full and final goal of the firm of John Anthony Lewis, Architect.
Experience
Owner
John Anthony Lewis, Architect, Inc.
Architect/ Owner
Terra Firma Designs
1975 – 1978 (3 years)
Passive solar & green architecture. Victoria, B.C. & Eugene, OR
Lectured on Environmental Design at Environmental Symposium, Museum of Natural History, Victoria, B.C., Canada
Education
The University of British Columbia
M. Arch. program, Architecture
1971 – 1972
Temple University
B.A., Art History, Fine Art
1967 – 1970
Awards & Recognition
1984 IBD Award Winner – Commercial Project: Bank of Los Angeles, Corporate Headquarters
1994 International Steel Award Winner – Commercial Project: Kelowna Springs Center
Publications
1984 Interior Design Magazine, Bank of Los Angeles
1986 Los Angeles Times Magazine, Thaler Residence
1986 Ad Week Magazine, Dr. Katz Dental Building
1991 Boulevard Magazine, Koenig Residence
1999 Canadian House and Home, Seltzer Residence